At the start of the 21st century, Milan were one of the strongest teams in Europe. They had a team which boasted the likes of Paolo Maldini, Gennaro Gattuso and Andriy Shevchenko, among others. That team would go on to win a Scudetto and two Champions League titles.
Now, they're a bit of a laughing stock. A punchline. And it's been like that for nearly a decade. So the 21st century has been something of a mixed bag for Milan, who have gone from having one of the best teams in the world to having a team that can't even qualify for Europe.
That's the period this squad list covers, and, fair warning: most of these players will have played for I Rossoneri within the first decade of the century. Although that doesn't mean that there haven't been a few standout players from recent times…
---
Goalkeepers Dida – The world's greatest keeper at his best, and an unreliable one at his worst, Dida represented Milan for a decade, where he conceded just 244 goals in 302 appearances, keeping an impressive 132 clean sheets. The Brazilian also had a reputation for saving penalties, which proved particularly useful in the 2003 Champions League final against Juventus, where he saved three out of five shots in the penalty shootout, helping his side to lift the trophy.
Christian Abbiati – Intermittently Milan's first-choice keeper for nearly two decades, Abbiati was less erratic than his Brazilian counterpart, but wasn't nearly as good. Initially Milan's starting goalkeeper at the start of the century, he lost his place to Dida in 2002 and only really regained it when the Brazilian left eight years later.
Gianluigi Donnarumma – At the age of just 21, Donnarumma has already made nearly 200 appearances for Milan and has secured his place as Italy's number one goalkeeper. A calming presence between the sticks…usually.
---
Right-Backs Cafu – Despite joining Milan at the age of 33, Cafu was I Rossoneri's starting right-back for five seasons, making a total of 166 appearances during his time at San Siro. An attack-minded full-back with a propensity for accurate crosses, the Brazilian also contributed an impressive 22 assists.
Ignazio Abate – The Italian international was Milan's undisputed first-choice right-back before a multitude of injuries and the emergence of Davide Calabria killed his career at the club. Abate made over 300 appearances for I Rossoneri in the space of 16 years, and proved particularly useful in Milan's Scudetto-winning 2010/11 campaign with his quick pace, dribbling and crossing ability.
---
Centre-Backs Alessandro Nesta – A strong but elegant centre-back, Nesta is one of the greatest defenders to ever grace the game. He spent the bulk of his career at Milan, winning a total of ten trophies – including two Champions Leagues – in the two decades he spent in the colours of I Rossoneri.
Thiago Silva – Silva established himself as one of the best defenders in the world during his time at Milan thanks to his strength, intelligence and pace. He helped I Rossoneri to a Scudetto in 2011 before leaving for Paris Saint-Germain in 2012, a move that made him football's most expensive defender at the time.
Alessio Romagnoli – Appointed as Milan's captain at the age of just 23, Romagnoli has been a standout player in what has been a difficult last few years for I Rossoneri. A modern defender, the Italian international has been noted for his ability to start attacks from the back and his accurate passing in addition to his tackling ability.
Alessandro Costacurta – A product of the Milan youth system, Costacurta was a one-club man for the entirety of his career, bar a loan spell at Monza in his early 20s. He was one of the greatest defenders of all time and a regular fixture at centre-back for Milan for two decades. The Italian also holds the distinction of being Serie A's oldest goalscorer at the age of 41, despite only scoring three club goals in his entire career.
---
Left-Backs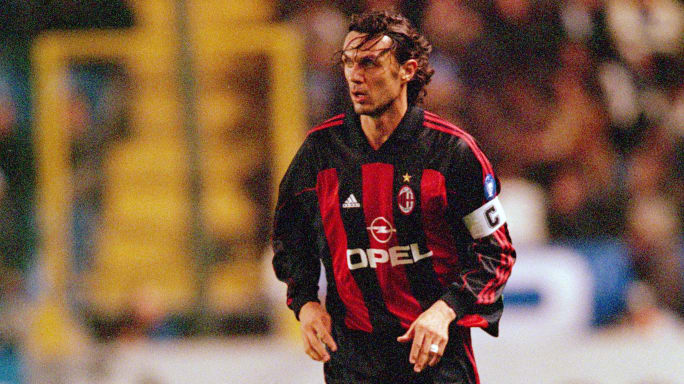 Paolo Maldini – Always in the conversation for the best defender football has ever seen, Maldini gave the entirety of 25-year career to Milan, becoming their record-appearance holder with 902 appearances – a number that is unlikely to ever be beaten. An elegant defender, known for his clean tackles and marking ability, Maldini led I Rossoneri to a total of 25 trophies during his career.
Marek Jankulovski – A tireless full-back, Jankulovski played for Milan for a total of six years between 2005 and 2011, proving particularly key in the 2006/07 season, where he helped I Rossoneri to win the Champions League.
---
Defensive Midfielders Gennaro Gattuso – Just the name struck fear into his opponents. Well, the name and the clatter of studs into delicate areas that followed it. To call this man aggressive and tough-tackling would be an understatement, but don't mistake that for a lack of tactical intelligence and anticipation, for he possessed both of those. A stalwart of Milan for 13 years, Gattuso made 468 appearances for I Rossoneri, ranking seventh in club appearances.
Demetrio Albertini – A native of Lombardy, Albertini spent most of his career at Milan, where he made over 400 appearances. He proved key to I Rossoneri's success throughout the 90s and early 2000s with his accurate passing, tactical intelligence, and set-piece ability.
---
Central Midfielders Andrea Pirlo – With his long hair, elegant play, and ability to take accurate free kicks in an incredibly calm manner, Pirlo was considered to be one of the classiest players of his era. He spent ten years in the colours of I Rossoneri, helping them to win a total of nine trophies before leaving for Juventus on a free in 2011.
Clarence Seedorf – A complete and versatile midfielder, Seedorf boasts an incredible trophy cabinet, winning a multitude of honours with Ajax, Real Madrid and Milan. It was the latter, however, where he spent most of his career and had the most success, making 463 appearances for I Rossoneri between 2002 and 2012 and winning ten honours.
Massimo Ambrosini – Somewhat forgotten among the midfield legends Milan have had over the last few decades, possibly due to the amount of time he spent on the injury table. Ambrosini played for I Rossoneri for 18 years, helping the club to win four Scudetti and two Champions Leagues.
Giacomo Bonaventura – Probably the best €7m Milan have spent in recent years. Bonaventura's excellent vision, passing, dribbling, in addition to his penchant for long-range scoring, have made him a key and consistent player for I Rossoneri since his 2014 arrival.
---
Attacking Midfielders Kaká – Arguably the greatest footballer in the world during the latter stages of his Milan career, Kaká was I Rossoneri's most important player between 2003 and 2009, scoring on 104 occasions and making 85 assists in 307 appearances. He also possessed bags of pace, was an accurate passer and was one of the best dribblers football has ever seen.
Zvonimir Boban – A key cog in the highly decorated Milan side of the 90s and early 2000s, Boban was an incredibly intelligent and hard-working player, which was bolstered by his versatility and technical skills. He made just over 250 appearances for I Rossoneri, scoring 30 times and making 35 assists.
Leonardo – Before becoming a talented manager and sporting director, Leonardo was one of the greatest footballers of his era, and was most famous for his association with Milan in the late 90s and early 2000s. An incredibly creative player, the Brazilian was capable of both creating and scoring goals, as demonstrated by the 30 goals and 18 assists he contributed during his four-year spell at San Siro.
Ronaldinho – The Brazilian was a little past his peak when he arrived in Milan in 2008 – but even a sub-par Ronaldinho was head and shoulders above most other players. For example, he ended the 2009/10 season top of the Serie A assist charts with 18. That's a lot.
---
Strikers
Andriy Shevchenko – Shevchenko scored 174 goals in 324 appearances over the course of two spells at Milan, making him I Rossoneri's second highest all-time goalscorer. He finished as Serie A's Capocannoniere on two separate occasions, scoring 24 goals in each of those seasons.
Filippo Inzaghi – A prolific striker who Johan Cruyff once said 'can't play football at all', Inzaghi was one of the best finishers of the late 90s and 2000s, owing to his intelligence (a trait he has taken into his management career) and excellent positioning rather than his skill on the ball, scoring an impressive 126 goals in 300 appearances for Milan.
Zlatan Ibrahimović – It takes a high degree of talent to remain prolific well into your late 30s, and that's precisely what Ibrahimović possesses. Something of a journeyman, who represented all of the teams in the 'Italian big-three' (Juventus, Inter and Milan), his spell at Milan is perhaps his most notable. He scored 56 goals in 85 games for I Rossoneri, helping them to a Scudetto in 2011. He's back there now. You might've heard.
Alexandre Pato – Forget about what's happened since he left Milan in 2012, Pato's contributions to I Rossoneri early in his career are noteworthy enough to include him on this list. He netted 63 goals in 150 games for Milan, and was a key part of the Scudetto winning squad in 2011.