It sometimes feels like La Liga only has two teams capable of winning the competition in Barcelona and Real Madrid, but the division has plenty of impressive sides and one of those standout clubs is Atletico Madrid.
The Spanish outfit is steeped in rich footballing history, with ten league titles and plenty of domestic cups to keep their fans happy. Atletico's Europa League wins have also made them feared on the European scene and teams always want to avoid coming up against Diego Simeone's side.
The talent that has passed through the club has been outrageous in the last few decades. Picking 25 players who have played for Atleti in the modern era for a hypothetical squad isn't an easy task, but here goes nothing.
---
Goalkeepers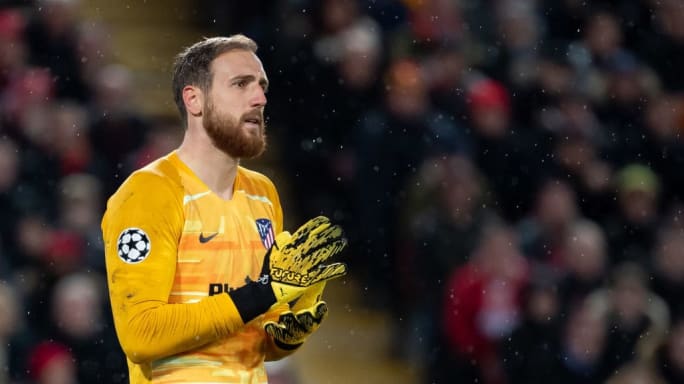 Jan Oblak – If anyone can go glove-to-glove with Alisson for the title of best goalkeeper in the world, it's Oblak. The Slovenian has won the Zamora Trophy four times and continues to impress with his performances.
Thibaut Courtois – Imagine being 27 years old and having already played for Chelsea, Atletico Madrid and Real Madrid. That's the reality for Courtois – also Belgium's undisputed number one – who helped Atleti win the 2013/14 La Liga title.
Leo Franco – Where is David de Gea? He's at Manchester United, where he belongs. Franco was Atleti's first choice keeper for the best part of five years during the mid to late 2000s and did a pretty good job between the sticks. Sorry, David.
---
Centre Backs Diego Godín – This man is a god in Atletico's footballing history and is one of the easiest choices of all. The Uruguayan remains one of Atletico's finest ever defenders and was signed for just £6.6m in 2010, which is up there for the title of biggest steal of the century.
Santi Denia – This man was pretty special to Atletico and won the double in his first season with Los Rojiblancos. Denia spent nearly a decade with the club and was one of their most consistent performers from 1995 to 2004.
Miranda – On his day, Miranda was one of the best centre backs in world football. The Brazilian enjoyed some great success for Atletico and during his time in Spain he won the Europa League, Copa del Rey and the UEFA Super Cup.
Roberto Solozabal – Solozabal was a product of the Atletico youth academy and enjoyed eight great years with the club, captaining his side to the double in 1996. Also picked up 12 international caps with Spain.
---
Right Backs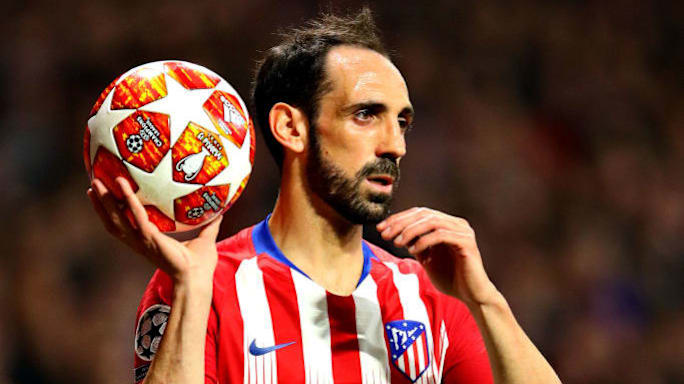 Juanfran – This man was on the list before it was even typed up. Juanfran possesses a special type of relationship with the club that can never be broken, playing 355 games during his eight years at Atletico, and would have made more appearances at international level if it wasn't for Spain's deluge of right backs.
Carlos Aguilera – Behind Juanfran is another cult hero in the form of Carlos Aguilera. The Spaniard appeared in 456 games over two spells with the club, also representing his nation at the 1998 World Cup.
---
Left Backs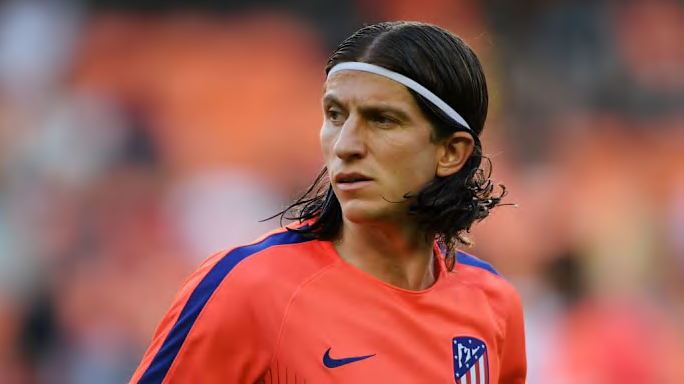 Filipe Luís – A full back who deserves all the plaudits for his performances over the years. Luis was superb for Atletico and his experience was vital to them in their 2014 championship-winning campaign. Since he left in 2019, Atleti's left side hasn't looked quite so secure.
Antonio López – Antonio López was an exceptional player for Atleti and was at the club for the best part of 12 years, coming through their youth academy. Helped his side achieve promotion in 2002 before scooping a couple of Europa League titles later down the line.
---
Central Midfielders Gabi – Gabi was pretty special for Atleti and his leadership and work ethic was on display every time he took to a football pitch. He was the glue for Atletico, leading from the front with his combative and tough-tackling style of play, and Simeone called upon him many times.
Raul Garcia – He wasn't anything special when it came to flashy skills or going past a player, but Raul Garcia was everything a central midfielder needed to be, and he performed well for Atletico during his eight-year stay.
Diego Simeone – The manager just had to have a spot on the list. He was spectacular in the centre of the park and helped his team to a La Liga title and a Copa del Rey.
Tiago Mendes – The Portuguese midfielder was a vital component for Simeone's side during his time with the club. The former Chelsea man was known for his ability to win the ball back and his distribution was top notch.
---
Right Midfielders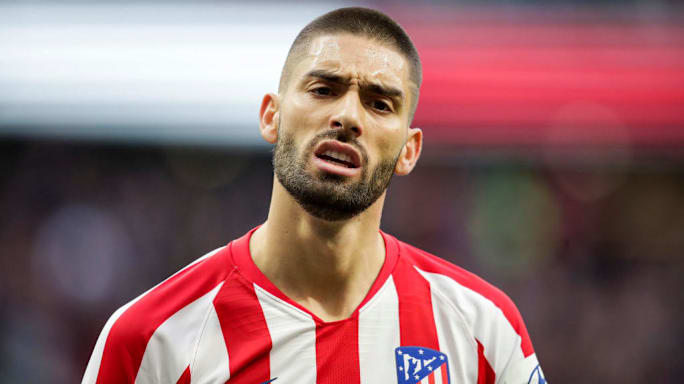 Yannick Carrasco – Carrasco is one of those players who could have been a world-beater if things worked out differently. Yet he has enjoyed a good career for Atletico and enjoys a special relationship with the fans, most notably scoring in the 2016 Champions League final.
José Antonio Reyes – The late Reyes was a great footballer to watch and played in over 150 games for Atleti. Also had spells with Arsenal, Sevilla and Real Madrid.
---
Left Midfielders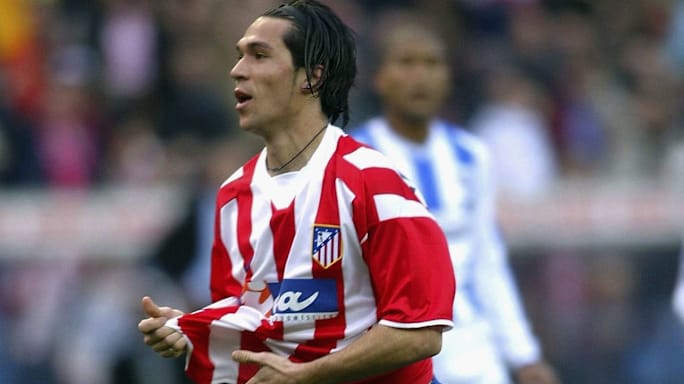 Luis García – It's easy to forget that Luis García played for Atletico, but it was there that the winger developed his game and caught the attention of Barcelona. He played over 100 games for Atletico and scored 16 times.
Arda Turan – The love story of Arda Turan and Atletico Madrid will always be remembered by the footballing world. The left winger was formidable for Los Rojiblancos and should never have moved to Barcelona. Things haven't quite gone his way since.
---
Attacking Midfielders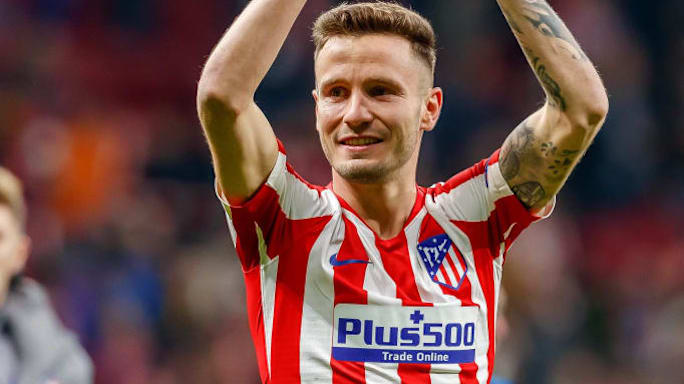 Saúl Ñíguez – When you talk about Saúl Ñíguez, you're talking about one of the most complete midfielders in Europe. The Spanish playmaker has been outstanding for Atleti and will no doubt go down as a club legend should he resist interest from other top European teams.
Koke – Koke is possibly the most important cog in Simeone's Atletico machine. The man is so important in midfield that he can literally play anywhere across it. The Spaniard's technical ability and work rate is frightening, and the comparisons to Xavi are well earned. 
---
Strikers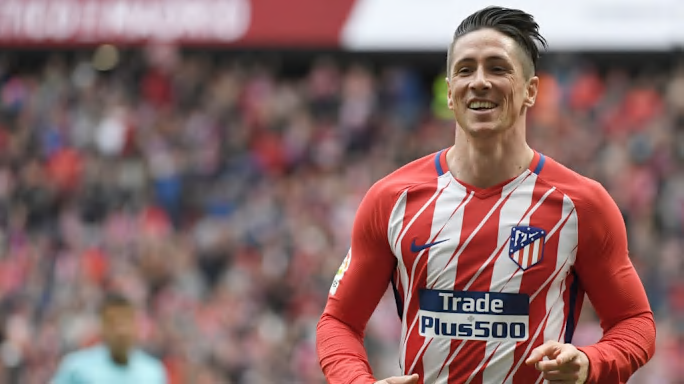 Fernando Torres – Torres was Atleti's golden boy and is by far the most successful product of their youth academy. Torres was relied on from an early age and during his first spell at the club he scored 83 times to help his side gain promotion back to La Liga in 2002.
Antoine Griezmann – Atletico have had so many great forwards over the years and Griezmann has been one of the best. Griezmann scored 133 times for Los Rojiblancos and played 257 games before moving to ​Barcelona in 2019. 
Diego Forlán – The former Uruguay international is a legend in Spain and his time at Atletico is remembered fondly by the fans. He was one of the best strikers around during the 2008/09 season, finishing the campaign with 32 La Liga goals. Whoof.
Radamel Falcao – Completing the attacking quartet is El Tigre himself. At one stage, he was one of the most deadliest strikers on the whole planet, thanks to his brilliant aerial ability. Falcao established himself at Atletico and showcased his talents to the entire world.
---