It was a tactical tie for the ages.
Bayern Munich vs Atletico Madrid. Pep Guardiola vs Diego Simeone. Two contrasting football ideologies clashing for 180 minutes of intrigue with a place in the Champions League final on the line. Heading into the second leg at the Allianz Arena in April 2016, Simeone's side held a slender 1-0 advantage following Saul Niguez's sensational solo strike after just 11 minutes. Los Rojiblancos' stellar defensive display for the remainder of the encounter, meanwhile, proved Pep's imperious Bayern side would have their work cut out in the return fixture.
Die Roten started brilliantly, however, sustaining attacks superbly and suffocating Atleti into oblivion with a fierce counter-press that came from all angles. Eventually, their pressure paid off before the break as Xabi Alonso's deflected free-kick found its way past Jan Oblak to restore parity in the tie.
The typically reliable Thomas Muller then had the chance from the spot to put Bayern 2-0 up on the night after Javi Martinez was pulled down by Jose Gimenez, but the German's penalty was saved by Oblak.
Then, eight minutes after the restart, Atleti got that crucial away goal. Gabi and Koke combined superbly to bypass three Bayern pressers to find Antoine Griezmann in a two-v-two alongside Fernando Torres. The Frenchman nodded Koke's deft lob down to Torres before the Spaniard split David Alaba and Martinez with a fantastic pass for Griezmann to latch onto in behind. Atleti's number seven's disguised finish was superb.
Bayern continued to impress going forward, though, and persistently asked questions of Simeone's robust backline. The positioning of Alaba and Philipp Lahm started to cause Atleti problems before the former played a big hand to give Bayern the lead on the night, as his cross from the left found Arturo Vidal who nodded across goal for Robert Lewandowski to pounce. The hosts needed just one more.
It was the visitors, however, who had the best chance to put things beyond the hosts as they were awarded a penalty following Martinez's reckless challenge on a surging Torres. With Griezmann off the field, Torres stepped up but his tame effort from 12 yards was palmed away at ease by Manuel Neuer.
A Bayern onslaught for the remaining ten minutes ensued, but a combination of safe goalkeeping, poor decision-making by Kingsley Coman and Atleti's capacity to defend the box ensured Die Roten didn't snatch an all-important third, meaning Simeone's side progressed on away goals.
---
BAYERN MUNICH
Key Talking Point Bayern were totally superior on the night and couldn't have done too much more to progress into the final.
Pep's idea to deploy wingers on their traditional flanks in a bid to outfox Atleti's compactness blunted the Bayern attack for much of the first leg and they were much more threatening with the use of inverted wingers in this one.
With Franck Ribery on the left and Douglas Costa on the right, there was greater scope for the pair to drift in between the lines and occupy the half-spaces, all while Alaba and Lahm overlapped – or underlapped, depending on the positioning of the winger – from their full back roles.
While there was minimal space to work between the lines, the dynamic movement of both full backs and Bayern's capacity to overload the flanks meant they were a constant menace from wide areas.
Their performance in the first phase was superb and although they found it tough to penetrate centrally, there's little doubting they created enough to win by a bigger margin on the night.
---
Bayern Munich Player Ratings
Starting XI: Neuer (7); Lahm (7), Boateng (8), Martinez (6), Alaba (8); Alonso (9), Vidal (6); Costa (4), Muller (5), Ribery (7); Lewandowski (6).
Substitutes: Coman (5).
---
Xabi Alonso
It's a pleasure for one to cast their eyes on this man's performance on the second viewing.
The Spaniard was simply sensational in all phases of play, dropping into a back three to assist Bayern's progression through the first phase and serving as his side's quarterback as the ball progressed into Atleti's half.
Out of possession he proved key in ensuring the visitors didn't enjoy any sustained spells with the ball as his astute and incredibly intense pressing just after Bayern had lost possession overwhelmed the visitors' midfield, forcing quick turnovers and allowing his side to sustain attacks. His perfect positional play, meanwhile, also prevented Griezmann and Torres from seeing much of the ball.
Oh, and he got on the score sheet as well.
---
ATLETICO MADRID
Key Talking Point This wasn't Simeone's Atletico at their robust best, but it was pretty damn close.
Set-up in a typical 4-4-2 mid block, their vertical and lateral compactness ensured Bayern's attacking midfielders struggled to affect proceedings from between the lines, as they persistently failed to combine off one or two touches.
Gabi, meanwhile, did a fine job in trying to disrupt Vidal in possession as he constantly moved out of the midfield line to hassle the Chilean and prevent Bayern from penetrating centrally. The speed at which they returned to their settled shape after committing men forward to support the front two was remarkable as well.
Overall, they seemed content allowing the hosts attack from out wide or via the direct route through Lewandowski. And with the full backs narrow, they were well-prepared to deal with an aerial bombardment into the penalty area.
While they surrendered chances, rode their luck, scored with their only real chance and forced Oblak into making nine saves on the night, Atleti's defence proved stern enough as Simeone sh*thoused his way to another Champions League final.
---
Atletico Madrid Player Ratings
Starting XI: Oblak (8); Juanfran (7), Gimenez (7), Godin (8), Luis (7); Saul (7), Gabi (7), Fernandez (5), Koke (8); Griezmann (7), Torres (6).
Substitutes: Carrasco (7), Partey (6), Savic (N/A).
---
Koke Simeone's Swiss Army knife proved key in this one.
Initially starting out on the left, Koke was drafted into the middle for the second half – where he proved a demon out of possession. When his side dropped into a 4-5-1 low block later on in proceedings, the Spaniard was tasked with stepping out to support Torres with the first press as well as provide cover for Bayern's crosses at the other end of the pitch.
He covered every blade of the Allianz turf and his moment of composure in possession kick-started the counter which led to Atleti's crucial away goal.
---
What Aged the Worst Yannick Carrasco's introduction at the break proved a significant one.
The Belgian provided the visitors with a little more thrust in transition as well as an aerial threat when they went long. His ability in tight spaces also allowed him to carry the ball up the pitch and draw fouls, providing Atleti with moments of mental and physical respite in the second period.
The 26-year-old would then score his side's equaliser in the final, celebrating in the most audacious way possible by kissing his girlfriend in the stands.
From playing a key role in the latter stages of this European run, Carrasco drifted into obscurity as he made the move to China in 2018 before returning on loan to Los Rojiblancos in January 2020.
---
What Aged the Best Heard of this Thomas Partey fella who's rose to prominence over the past 12 months?
Thought you might.
Well, the Ghanaian was only good enough for a ten minute cameo in this one as Simeone looked to shut up shop. He's now one of Europe's most complete central midfielders and is poised for a career spent in the colours of some of the continent's elite.
---
What Happened Next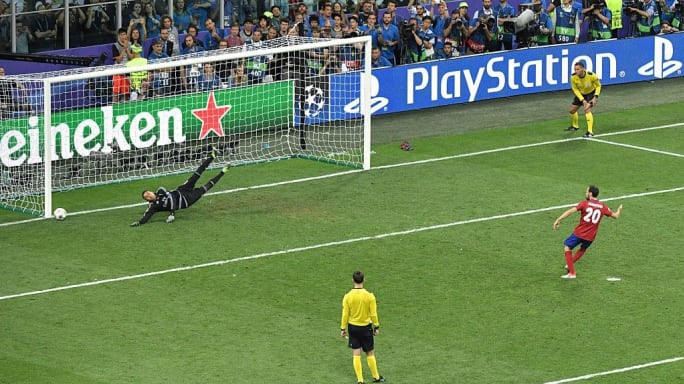 That would be Pep's final European encounter in the home dugout at the Allianz as he made the switch to the sky blue side of Manchester at the end of the campaign…and he's still yet to win a Champions League crown without Lionel Messi.
He would, however, ensure he won the Bundesliga title in every season during his stint in Munich as Bayern outlasted Dortmund for their third Meisterschale on the bounce.
Atletico, meanwhile, would go on to lose to Real Madrid, again, in the final at San Siro on penalties, with Cristiano Ronaldo haunting the Rojiblancos faithful once more as he smashed home the winning spot-kick.
They'd also have to settle for third in La Liga behind the Clásico participants.
---
Questions
Seriously Simeone, other than cajones, how do you do it?
Are Pep's Bayern the best side not to win the Champions League?
Was Javi Martinez's foul on Fernando Torres in or outside the box – it's not significant, just bloody hard to tell?!