With Antonio Conte at the helm and a resourceful backing off the pitch from big investors, the future is looking bright for Inter supporters.
The Nerazzurri had slumped during the mid-2010s following the departure of Jose Mourinho, but some astute business in the transfer market has seen the San Siro side emerge as title challengers again.
A club steeped in history, Inter and their fans have seen some incredible talents grace the Giuseppe Meazza, and here we've put together their ultimate player, from brains to brawn. Go figure.
---
Brain: Esteban Cambiasso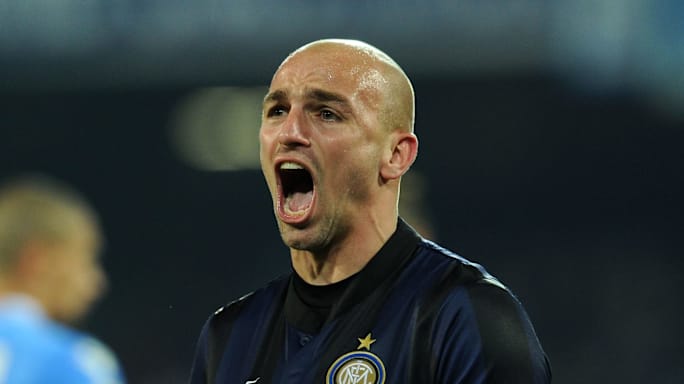 There weren't many more distinctive sights in football than seeing Cambiasso's shiny head glisten under the lights of the Giuseppe Meazza.
The Argentine midfielder arrived at Inter after a short and uneventful spell with Real Madrid and adapted beautifully to Serie A, becoming an integral part of the Nerazzurri first-team.
A true student of the game, Cambiasso remodelled his style of play to suit his new role at Inter. With supreme footballing IQ, he was able to contribute both to defensive and attacking phases from central midfield.
---
Head: Marco Materazzi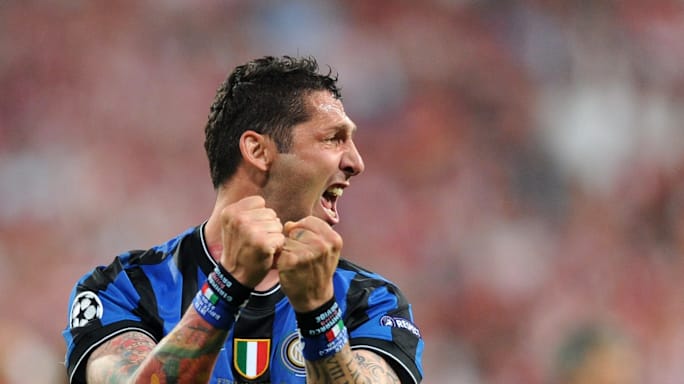 The sort of player you absolutely hate playing against but one you'd love to have on your team, Materazzi took on the role of hard man and defensive rock.
When he wasn't chirping away in an opponent's ears, Materazzi was providing the defensive grit and steely determination needed to succeed at the highest level.
He was also a commanding figure in the air, shown during the 2006/07 season when he scored ten Serie A goals from central defence. Obviously, the majority of those where headers from set pieces. Scored in a World Cup final, too.
---
Eyes (Vision): Wesley Sneijder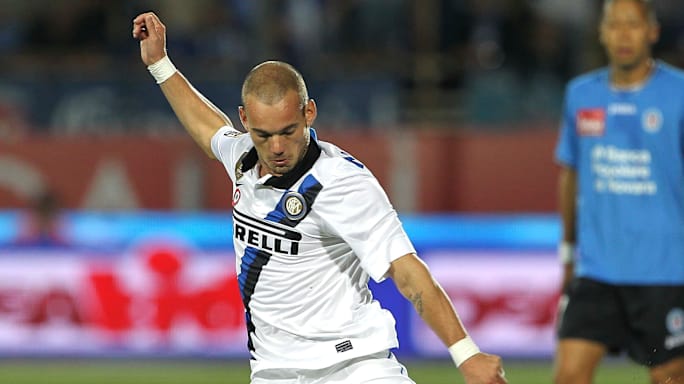 Truly one of world football's unsung heroes, Sneijder was offloaded to Inter from Real Madrid back in 2009. The Dutchman settled quickly and became a vital piece of Mourinho's treble winning outfit.
Sneijder was able to dictate the tempo of games from midfield, using his excellent vision and passing range, while his ball control and dribbling skills allowed him to steer clear of opponents and open up defences.
With a keen eye for goal, Sneijder often found himself on the scoring sheet in big games. His performances for Inter and Holland in 2010 left many outraged at his overlooking for that year's Ballon d'Or prize.
---
Lungs (Workhorse – Cardio): Javier Zanetti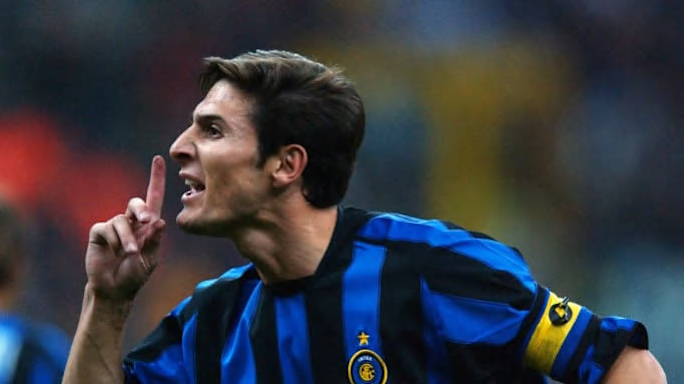 Mr. Inter himself, Zanetti arrived from Banfield in 1995 and went on to spend 19 illustrious seasons with the Nerazzurri.
Zanetti was versatile, playing in both defensive midfield and at full back, but it was his work ethic that shone through. No matter where he was playing, he gave his all.
The engine on Zanetti was spectacular, so spectacular that it served him at the highest level right up to the ripe old age of 40. He's probably still charging around some five-a-side pitch in Milan on Wednesday nights – with social distancing measures in place, of course.
---
Body (Strength): Zlatan Ibrahimovic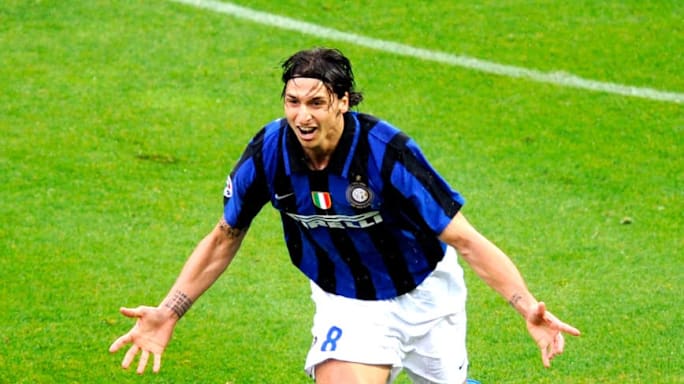 When it comes to strength and physique, one of the first players who springs to mind has to be Ibrahimovic. The towering Swede quickly jumped ship from Juventus after their relegation in 2006, joining Inter.
Ibrahimovic's stint at the club helped establish him as a top level striker, as tallied well into double-digit goals in his three Scudetti winning seasons with the Nerazzurri.
Zlatan's ability to utilise his athletic 6'4 frame, coupled with natural goalscoring instinct, makes him virtually unplayable at times. Dominant in the air and untouchable when holding the ball up, Ibrahimovic strikes fear into defenders, and rightfully so. The guy's got a black belt in taekwondo.
---
Legs (Pace): Obafemi Martins
Martins rose to fame early on in his career while at Inter. The young Nigerian forward showed great promise with his goalscoring ability, but it was his blistering speed that was most eye-catching.
Martins was insanely athletic, often displayed by his big back-flips in his goal celebrations.
Back in his Inter days, he could apparently run 100 metres in 10.6 seconds – an astonishing feat. Pro Evolution Soccer fans will definitely remember reaping the benefits of playing as Inter with this man up front.
---
Right Foot: Ronaldo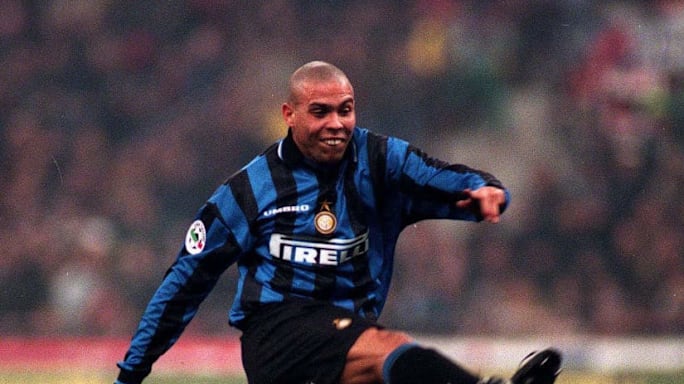 Arguably the greatest striker to have ever graced the game, Ronaldo arrived at Inter off the back of an astounding season for Barcelona in La Liga. Il Fenomeno hit the ground running at Inter, winning the Ballon d'Or in his first season with the club.
Known for his powerful dribbling ability, often rounding the keeper or bursting the net with a vicious strike, Ronaldo could do it all. Inter began to build their team around their new talisman as the Nerazzurri looked for their first Scudetto since 1989.
It wasn't all plain sailing, however. Ronaldo suffered recurring knee injuries that saw him frequently sidelined toward the end of his stint in Milan. Ronaldo made 98 appearances for Inter, scoring 59 goals before moving to Real Madrid in 2002.
---
Left Foot: Alvaro Recoba Recoba was relatively unknown upon his arrival at Inter from Nacional in 1997. They may not have known it at the time, but Nerazzurri fans soon discovered they had a special talent on their hands.
The Uruguayan marked his debut with a stunning brace against Brescia, scoring a 30-yard rocket and a masterful free-kick from even further out. The man just simply could not score a normal goal. Possessing one of the sweetest left foots we have seen in Serie A, El Chino's debut set the tone for the rest of his Inter career.
Inter fans were regularly treated to Recoba's moments of sheer brilliance. Just have a look at his highlight reel, you certainly will not be disappointed.
---