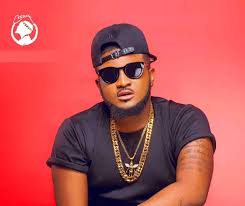 Singer, Ceeza Milli has responded to Burna Boy's claims of being the sole writer of his hit track "On The Low"
Taking to his Instagram page to share a detailed story of his contribution to the making and recording of the song. According to him, he was invited to a recording session by his record label (Aristokrat) back in August 2018 to work on a project with another label mate to feature Burna Boy and ended up working for days.
He explained that when working with studio recordings, he automatically gets a vibe and from there the artiste vocalizes and it on the record. Ceeza said this was how he came up with "On The Low" which was initially made for another artiste before it was given to Burna Boy. Although Burna changed some words on the vibes he had laid out, it doesn't change the fact that he assisted with 50 percent of the project.
Ceeza further revealed that there were several people who were in the studio that day and he wishes he was more informed about documentation for his intellectual property at that moment. He added that he and Burna have not a conversation since 2018 and has no reason to leverage the singer's success and feels there are better ways of settling matters amicably without resorting to violence.
He wrote: I have been tagged in some social media posts showing Burna Boy's tweet about me not working with him to record some songs. First ad foremost, I will like to state that I have the utmost respect and admiration for Burna Boy and it is an incredible feat what he has been able to achieve with his music and I wish him well. As regards songwriting on the record "On The Low" in August 2018, I was invited to a recording session by my label Aristokrat records to work on a project with another label mate to feature Burna boy. That recording camp session lasted about four days. 
The way I work, when we vibe in the studio to sound recordings, i'ld typically get a vibe, the artistes I'm working with will then vocalize it and pout it on the record. This is exactly how it played out with "On The Low". In fact, the sound recording for the song was made by Kel P for another artiste who at that time had not voiced on it. I heard the beat by Kel P and vibed the into of the song on my phone "Kpokpo di kpo ou dey high me like choco o". We went through this process and recorded the song. 
Without a doubt. Burna changed some words in the vibes I laid out for him in the studio that particular day ad there were people in the studio at that time, including my record label bosses. A song that you vibed about 50 to 60 percent of, will you be wrong to rxp[ress that you wrote it? So I am really at a loss for how Burna can claim I didn't work with him on the song. There is no shame in having songwriters work with you. There are several international artistes that do not write their songs at all. I wonder why it os considered a reproach to acknowledged that you got assistance in creating a piece of work. 
I have written songs for other artistes that have gotten critical and commercial acclaim and I have no doubt that God will enable me to do more. It is unfortunate that st the time I worked with him on those songs, I had not gotten sufficiently informed bout documentation for intellectual property. A simple spit sheet will undoubtedly have ended this bac and forth.
Furthermore,  I have had no has a conversation with Burna since the expiration of that camp in August, 2018. I have no reason whatso ever to leverage Burna or his successes as I have no doubt that the passion, persistence, talent, and grace that worked for him, to get to where he is have all been made available to me by God almighty. I have no doubt that I will fulfill destiny.
I am, however, of the opinion that there are civil ways to air grievances without resorting to name-calling or threats to life and physical injury. I will notify the relevant agencies to ensure that as a Nigerian citizen, threats to my life /physical injuries to my person are taken with the seriousness that they deserve. Thank you, Ceezamili 
See the post below:
 

View this post on Instagram

 
Ceeza Milli
Editor Rating

Rated 4 stars

Excellent
---
Ceeza Mili Fires Back At Burna Boy, Stands Firm On Writing "On The Low" Back In 2018

Reviewed by:

Published on: Apr 1, 2020 | 10:23

Last modified: Apr 1, 2020 | 10:23
---