Gareth Bale is declared as Britain's richest sports star aged 30 or under, but the Real Madrid star still has a long way to go to catch up to all team leader Lewis Hamilton.
A lot of British footballers might have been expected as earning mega money, but none of them appeared in the Sunday Times' Rich List, of Britain's top 1000 wealthiest people.
Only Lewis Hamilton and Rory McIlroy made it into the list but in the Times' list of top earning people 30 or under, other sports took 18 of the 50 sports, with 17 going to footballers.
Real Madrid star Bale leads the way with £114 million, up £20 million from last year, ahead of Anthony Joshua, the only boxer on the list, on £107 million.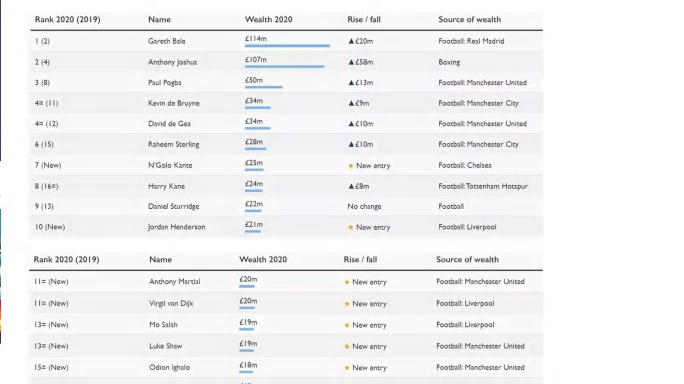 Bale and Joshua are the only two sports stars to make it on the overall 30 and under list with the Welshman in seventh place and the world heavyweight boxing champion one place behind him.
Speaking about sportsmen, Robert Watts, the Rich List compiler, said, "Being the best in the world at what you do is well rewarded in any business or profession. Sport is no different, as this year's Rich List shows once again.'
He concluded, "On the face of it these sports stars are very different to the entrepreneurs and other business leaders who dominate The Sunday Times Rich List. But the biggest names in golf, boxing, motor racing and football have that same capacity for hard work, discipline and sacrifice – that ability to keep pushing when many of us would take a breather."