German 'Mono' Burgos has confirmed he will leave his Atletico Madrid assistant coach position at the end of the season to pursue his ambition of becoming a head coach.
Burgos worked under former club and country teammate Diego Simeone at Catania Calcio and Racing Club de Avellaneda before they linked up again at Atletico in 2011.
Speaking on Atletico's social media accounts, Burgos explained: "At the end of this season, I will start my career as a head coach. With more than ten years of experience of the first division, I think I'm more than ready to coach a team myself."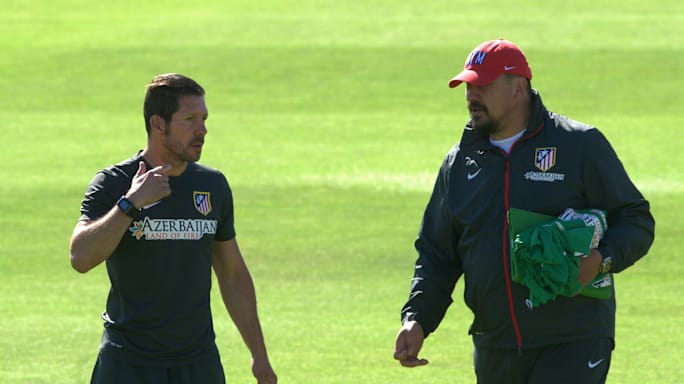 Burgos was asked to mention his favourite moments from his time under Simeone, revealing: "There are two. The hug with El Cholo when we won La Liga, that first hug, and the last one that we had at Anfield.
"We'll have the third when we win the Champions League [this season]. There are objectives to complete – Champions League qualification and everyone wants to win the Champions League. It's a dream for everyone and I'm a chaser of dreams. Time, hunger and passion won't be enough for me to win the Champions League."
Over the past nine years, Burgos has experienced huge change in Madrid with Los Rojiblancos becoming one of the most successful in Spain and Europe.
"It's impressive having put [Atletico] back among the elite of world football," he added. "Something like the [Estadio Vicente] Calderon has passed, legends have passed and now we've got constant excitement with the Wanda [Metropolitano] "[I'm proud of] seeing boys like Koke and Saul grow into men, like [Jose] Gimenez or Thomas [Partey]…also having coached world champions – that stays in my heart. Not everyone has the chance to do that.
"They were [Fernando] Torres, [David] Villa, [Antoine] Griezmann, Lucas [Hernandez] and [Thomas] Lemar. We've coached five of the seven Atletico have had in their entire history."
Former Arsenal and Argentina defender Nelson Vivas is expected to take over as Simeone's number two next season as Burgos allegedly has offers to coach back in his homeland of Argentina.