When the clocks struck midnight on 31 December 1999, Germany were typecast as a side who won games through virtue of their regimented, disciplined nature, but whose day as a footballing powerhouse had been and gone.
They had blood and thundered their way through Euro 96 – utilising penalties, extra-time and even the dreaded Golden Goal to slog through the knock-out stages – and emerged as champions. Their feeble showing in 1998, however, suggested that something had to change.
Out of the ensuing identity crisis, however, came Joachim Low, and a new 'golden generation' that would change the face of German football – while keeping in with some of the stereotypes on which they had built a formidable reputation.
Here's Die Mannschaft's greatest XI since the turn of the century.
---
Oliver Kahn (GK)
Nicknames just sound better in German, don't they? Der Titan certainly earned his – he was a colossal influence between the sticks and set the bar inestimably high for the likes of Manuel Neuer and Marc-Andre ter Stegen.
His ridiculous antics at the 2002 World Cup – conceding just once until the final – saw him edge out Ronaldo to become the only goalkeeper ever to win the Golden Ball.
---
Joshua Kimmich (RB)
Nine assists in a single World Cup qualifying campaign? Grow up, Joshua Kimmich.
The Bayern man is perhaps at his best when spraying passes from midfield and rampaging from box to box, but over the years he has done an admirable job at right-back for club and country. He's one of the best crossers in the game and averages an assist every three matches for Germany, which is silly.
---
Jerome Boateng (CB)
There are a few who could have gone in here, but at his best, there are few on the planet who can hold a candle to Boateng.
You could make the case that Germany's famous 2014 success would not have happened if not for his string of imperious displays at the heart of defence throughout the knockout phase, and you'd probably be right.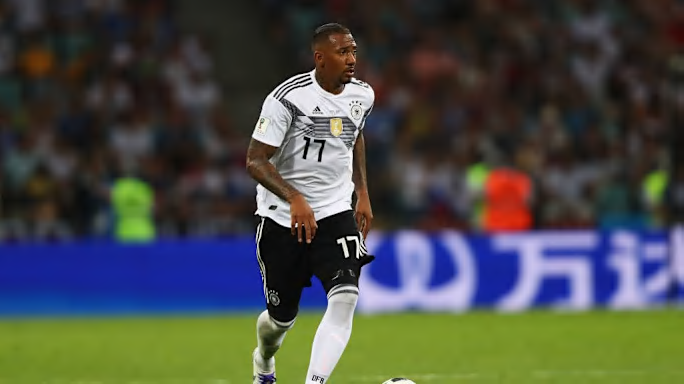 ---
Mats Hummels (CB)
I've been informed that sheer handsomeness alone isn't enough to merit inclusion. That's a perversion of justice, but not one Hummels will be cursing; as fortunately for him, he's quite good at football too.
He's got everything you'd want from a modern centre-back. He's classy with the ball at his feet, he's dominant in the air and he'd win a 50/50 with Thanos if the situation presented itself.
---
Philipp Lahm (LB)
Legend has it that you could stick Philipp Lahm in goal for a World Cup and he'd still come out with five clean sheets and the Goalkeeper of the Tournament award.
He was versatile and intelligent enough to stand out anywhere on the pitch, but it's his diligent displays at left-back for Germany for which he will be best remembered.
---
Michael Ballack (CM)
When Ballack came on for Didi Hamann in a seemingly insignificant half-hour cameo against Scotland in 1999, even the most ambitious of German football fans would have been hard pushed to predict the audacious international career that lay ahead of him.
A little over ten years later, he retired from international football; as his country's seventh top scorer of all time (42 goals), and safe in the knowledge that his propensity for bookings single-handedly led to the introduction of yellow card amnesties at major international tournaments.
---
Bastian Schweinsteiger (CM)
Only three players have managed more than the 121 appearances Schweinsteiger managed for Germany between 2004-2016, but you could argue that only one (he's still to come) can claim to have rivalled his influence.
He was at the beating heart of it through three World Cups and three European Championships, and diagrams of his instrumental performances in 2014 will be found in textbooks under 'how to play in central midfield' for decades to come.
---
Toni Kroos (CM)
The clinical precision and ineffable composure with which Kroos plays football has come to define the modern Germany, and if he's the player you're hanging your hat on then you're generally doing not too bad.
His role in the 7-1 destruction of Brazil earned him a nickname in the Brazilian press – Garcom, or 'Waiter', after the service he provided for the front-men on that fateful day.
---
Thomas Muller (CAM)
Muller has been a consistent scorer and creator for both Bayern Munich and Germany for as long as football has existed (since 2008).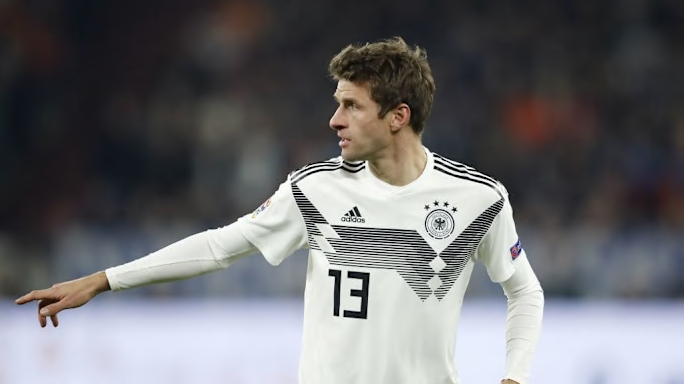 You know what you're going to get with him; namely a goal every three matches, like clockwork. His five goals in South Africa in 2010 won him the Golden Boot and he hasn't looked back since.
---
Lukas Podolski (CF)
Whenever conversations about a best Germany XI over any period of time crop up, there is always plenty of debate over who should go up front. Podolski, though, is well worthy of a spot.
In the UK, he comes a little underrated, but he was nothing short of a phenomenon throughout his 13-year international career. Renowned for his power and aptitude from long range (hiya thunderbastard vs England in his final Germany appearance) he's a modern legend of German, and indeed international football.
---
Miroslav Klose (CF)
Klose scored 71 goals for Germany, and is their all-time top scorer. The closest active player to that tally is Thomas Muller, who has scored 38 goals for Germany.
He was one of the best pure strikers to ever play the game and his record is going nowhere, unless Timo Werner or Serge Gnabry fancy getting their fingers out.
---