It was business as usual for Borussia Dortmund on Saturday afternoon, as the German giants took apart bitter rivals Schalke in the Revierderby – although the circumstances of the match were far from normal.
In England, matches which are played in empty stadiums are described as 'behind closed doors'. In Germany, they call these fixtures 'ghost games'. And this expression has never felt more apt, as the football world tuned in to watch the Bundesliga recommence in echoey, empty grounds. And the lack of colour and noise was so painfully evident, as the nation known for its loud, loyal supporters was reduced to hearing the solitary shouts between teammates and coaches. But even in these eery conditions, the Bundesliga put on a show for its viewers, and none more so than title hopefuls Dortmund.
The second-placed side played some scintillating football at Signal Iduna Park, with goals from Erling Haaland, Thorgan Hazard and a Raphael Guerreiro brace seeing off arch enemies Schalke. So Der BVB's players appeared to adapt pretty well to the new interpretation of football – but what did they have to say about it?
Well, for goalscorer Haaland, it was as if he'd never left the pitch. The Norwegian sensation struck the opening goal of the game, and celebrated in social distancing fashion, keeping a safe distance from his elated teammates.
Julian Brandt also embraced the new handshake rule, posting a picture of himself touching elbows with Hazard, after players were banned from shaking hands in the traditional manner, to avoid any possible spreading of the coronavirus.
Scorer Hazard also had his own bit of fun, turning towards the stands and celebrating with the non-existent supporters.
Defenders Mats Hummels, Achraf Hakimi and Dan-Axel Zagadou also saw the lighter side of the situation, expressing their delight in the derby day victory on Twitter.
So that was strange but it still feels pretty good ? #derby

— Mats Hummels (@matshummels) May 16, 2020
Esa sensación de volver a hacer lo que te gusta! Seguimos ?? / That feeling of doing what you love again! Keep going ?? pic.twitter.com/3pk5PwobpR

— achrafhakimi (@AchrafHakimi) May 16, 2020
But coach Lucien Favre felt the effects of having an empty stadium, bemoaning the fact that 'nothing happens' in the ground when his players light up the stage.
"You shoot at the goal, make a top pass, a goal – and nothing happens. That's very, very strange. We really miss our fans."
And opposing boss David Wagner was extremely unhappy with his team, but was reluctant to blame the 'bizarre atmosphere' in the ground, as cited by Goal.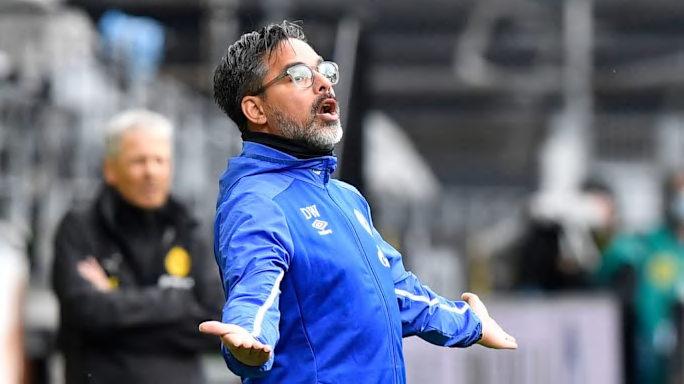 "We didn't play a good game, and at really bad moments we conceded the goals. At least two goals would have been easy to defend," Wagner said.
"Derby defeats are unpleasant in principle, even in this bizarre atmosphere."
Football is back, in one form or another – and we'd better get used to it.