Let's be honest, unless you're a Bayer Leverkusen fanatic, you were tuning in to Die Werkself's trip to Werder Bremen on Monday night for one man and one man only: Kai Havertz.
And after the 20-year-old spent his Saturday afternoon gazing over the equally generationally gifted Erling Braut Haaland reassuring the footballing world that he hadn't lost his autonomous goalscoring powers, Havertz delivered with a brace of his own in front of an empty Weser Stadium. While the German certainly wasn't the protagonist on Monday night, he nonetheless served a key function in his side's collectively spellbinding display – which saw them outwit an albeit poor Bremen side through synchronised midfield rotations, sharp combination play and persistent penetration of the half-spaces in a 4-1 victory.
What was slightly peculiar about Havertz's performance, though, was that it came from an unfamiliar false nine role.
Following a disappointing Hinrunde which saw him rack up just three Bundesliga goal contributions, Havertz's 2019/20 campaign kicked into gear at the turn of the new year, with the rediscovery of his 2018/19 form helping Leverkusen win nine of their 11 clashes in all competitions between January and the universal suspension.
Amid this fine run of form, Havertz had generally been working his magic from either an inside forward role in a 3-4-2-1 or a number ten position in a 4-2-3-1. Only once had Peter Bosz used him as a false nine; in Die Werkself's final game before the break away at Rangers in the Europa League. Nevertheless, as he scored his fifth and sixth Bundesliga goals since the start of the Rückrunde in the 4-1 romp, Havertz proved once more why it'll likely take such a gargantuan fee to acquire his services at the end of the season.
The golden boy's slender but sturdy 6'2″ build ensured he could serve as the side's focal point when called upon, while his tactical astuteness allowed him to interchange with 17-year-old debutant Florian Wirtz and attacking midfielder Nadiem Amiri effectively to befuddle an easily confused Bremen backline. The German's versatility and supreme technical ability, meanwhile, enabled him to receive possession in several zones of the pitch and contribute to his side's patient build-up.
It's what Dele Alli – who many compare Havertz to – often struggles to do; drop deep and play over larger distances due to his deficient passing ability.
It wasn't, however, the cleanest of displays by the 20-year-old, let's get things straight. Before he put Leverkusen 1-0 and then 2-1 up just after the half-hour mark with a pair of headers a prime Andy Carroll would've been proud of – saying that, I don't reckon he'd score an easier goal than his second – Havertz had barely put a foot right in possession.
Innovative flicks often failed to find their mark, while he struggled to combine off one and two touches when his side progressed into the final third – which was often – and this was a factor in his side's decreased efficiency in the opening period.
There were, however, some moments of real quality.
His crisp pass out to Moussa Diaby before Mitchell Weiser made it 3-1 with a header of his own highlighted his ability to make the right decisions in transition, as well as execute the final ball. Another phase of play which stood out was one that probably went under the radar because it was so subtle; but Havertz's slight delay to create a better angle for a perfectly weighted through ball for Weiser in behind Marco Friedl was majestic and showed his awareness.
Sure, he wasn't able to complete his maiden senior hat-trick but his display in the second period as the cobwebs accumulated from a two-month COVID-19 hiatus disappeared was much more complete and a true reflection of his talent.
So, that leaves the question: is the false nine role one Havertz should be deployed in at greater regularity going forward?
Certainly.
I've already mentioned why he's able to play that role so effectively and with the majority of modern-day managers drifting away from having a traditional number nine leading their front line – see Roberto Firmino and Gabriel Jesus among others – Havertz has proved, albeit in a small sample size, to be someone who can be deployed as almost a nine-and-a-half if you will, as a result of his predatory goalscoring instincts, physicality and capability to combine and create.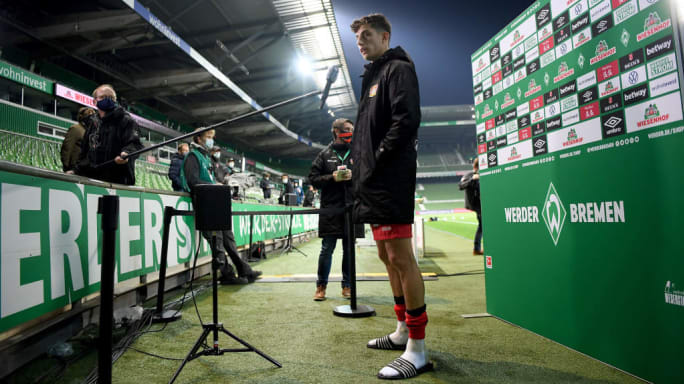 And, of course, we shouldn't overlook Havertz's capacity to play a plethora of roles in a variety of systems to an elite standard.
For whoever signs him at the end of the season – with Bayern, Liverpool and Chelsea interested – they'd be obtaining a player who's blessed with the style, ruthlessness and ability to be a future Ballon d'Or winner.
Nevertheless, Havertz passed his first showcase to the footballing world with flying colours and you certainly won't want to miss what will likely be his final few games in an incredibly fun Leverkusen side.
---