Kick It Out chairman Sanjay Bhandari has urged all footballers to take a knee in order to protest the killing of George Floyd and show their support for the Black Lives Matter movement.
Floyd, an unarmed black man, was killed in Minneapolis after a white police officer kneeled on his neck for over eight minutes.
The Liverpool squad were pictured down on one knee in the Anfield centre circle in a show of solidarity – a gesture first adopted by NFL quarterback Colin Kaepernick in 2016 in protest against police brutality in the States.
Bhandari has encouraged other players to follow suit once the Premier League resumes.
Speaking to the Guardian, the Kick It Out chairman said: "I wonder if that's the thing I would encourage if players want to protest. If you score a goal and take a knee could everyone do that? Not just the black players. The white players too – everyone.
"Every player should do it. It should be teams doing it. You saw the Erling Haaland celebration after the first game back where all the Borussia Dortmund players did the social distancing celebration.
"They could all take a knee. Racism's not about black players or brown fans. It's about all of us. Racism corrodes society and we're all hurt by it. Everyone should want to demonstrate their solidarity and disgust."
First professional hat trick ??. A bittersweet moment personally as there are more important things going on in the world today that we must address and help make a change. We have to come together as one & fight for justice. We are stronger together! ❤️ #JusticeForGeorgeFloyd ?? pic.twitter.com/ntOtwOySCO

— Jadon Sancho (@Sanchooo10) May 31, 2020
A number of Bundesliga players used the weekend's fixtures to pay tribute to Floyd.
Jadon Sancho revealing a t-shirt emblazoned with 'Justice for George Floyd' after scoring Borussia Dortmund's second during their 6-1 victory over Paderborn.
Schalke captain Weston McKennie wore a captain's arm band baring the same message, while Borussia Monchengladbach striker Marcus Thuram marked his side's opening goal by taking a knee.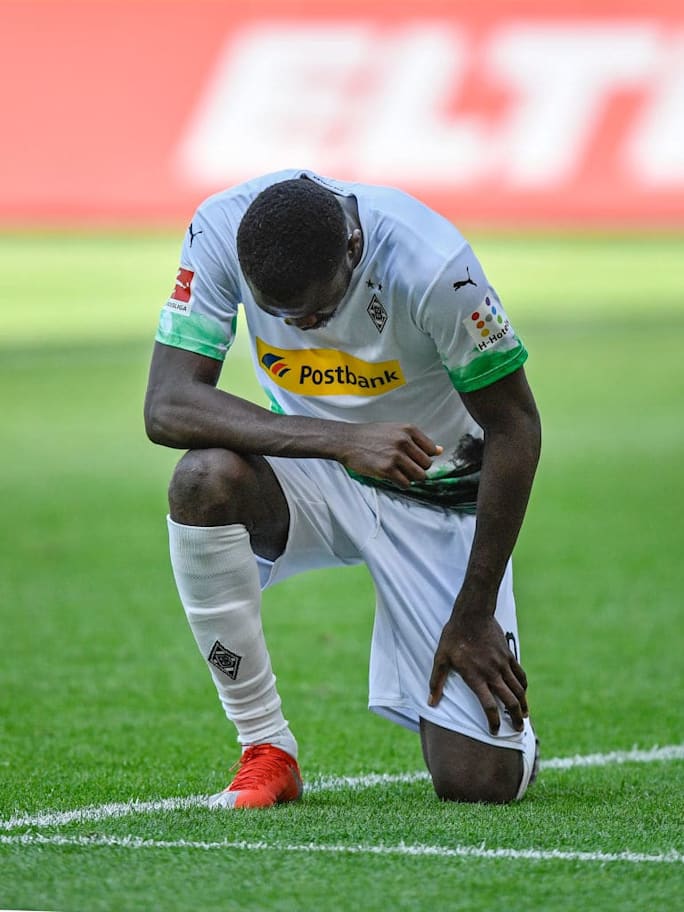 Sancho was booked for displaying a message under his shirt, and Bhandari has urged the FA to not discipline players for taking a knee.
"I would like to encourage the players to protest if they want to," he added. "But I would also like to encourage them to do it in a way that doesn't expose them to unnecessary sanction.
"If they could do that by taking a knee, well if every player did that it would be quite a powerful message. I would be interested to hear what the authorities thought of that, whether it would constitute a breach of the rules.
"To me that is about demonstrating solidarity."