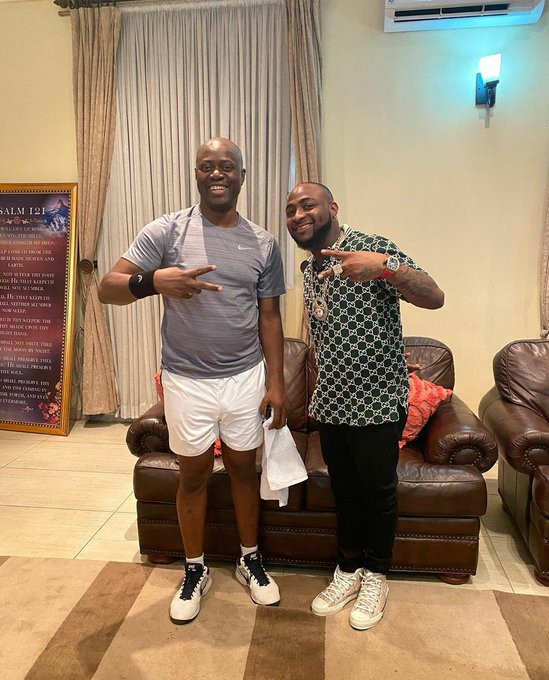 Nigerians have expressed c0nvern over Davido's health as the Governor of Oyo State, Seyi Makinde tested positive for the coronavirus. 
Seyi Makinde revealed that he had tested positive after running the test twice and also revealed that he is asymptomatic which means he is not showing symptoms. This caused music fans to worry as Davido recently met up with the governor and even shared a photo on the gram.
Davido and his crew also tested for the virus but unfortunately only that of his fiancee, Chioma came out positive. The "Risky" singer has now been advised to run another test as he came in close contact with the governor. He has also been accused of paying for his real status to remain a secret.
See some of the reactions below:
Gov. Seyi Makinde tested positive to Coronavirus is really a sad news.

Thousands of PDP supporters who came in contact with him during the rally few days ago will have trouble sleeping tonight & the next few days. Davido too.

This could have totally been avoided regardless.??

— Duke of Ibadan ?? (@AsiwajuLerry) March 30, 2020
Wait sef, was it not like a week after Davido met with Seyi Makinde he tested negative?
This one that everybody is saying "Retest Retest". If the boy no wan catch am, he no wan catch am be that ?

— Rere • Ayodele • Samuel • Idris (@rereayodele) March 30, 2020
Davido returned from his trip abroad
He refused to self isolate
He went to Ibadan to see Seyi Makinde
Now my favorite governor has tested positive while the Davido is still negative. pic.twitter.com/UvWpVI54Sv

— AyoElesho?? ??? (@Ayoelesho) March 30, 2020
Davido met Chioma, Chioma Tested Positive, Davido met Seyi Makinde, Seyi Makinde tested Positive. NCDC should get Davido blood sample , His blood could probably be the cure we've all been waiting for.

— ??BEARDLESS BOY!?? (@seunadesanya_) March 30, 2020
DavidO came back from the United States and did not self-isolate, he even visited the Governor of Oyo State, Seyi Makinde… He only started self-isolation on #25March 2020… Contrary to advice by #NCDC that everyone who returned to Nigeria should self-isolate for 14-days. pic.twitter.com/YjMOtFeHN9

— #TotalGossips (@total_gossips) March 27, 2020
Davido needs to re-run the test..Fine, that's quite reasonable.

You now saying "Davido is positive and he was definitely the one who got seyi Makinde infected" shows only one thing..

You're stupid!

— Unwanted Friend?? (@holardamolar) March 30, 2020
But Davido's immune system is way stronger mehn.

Two people he rolled with tested positive (Chioma & Gov. Seyi).

I need to buy more Vitamin C ? ?

— London Boy Of Lagos ?? (@Nigeriasceleb) March 30, 2020
Davido paid huge amount of money to have his real status per Coronavirus hidden. Yes he may be asymptomatic but not negative. With Seyi Makinde testing positive for #COVID19 there's no denying. In any case I wish all affected quick and smooth recovery.

— LADENED (@Truevolting) March 30, 2020
Editor Rating

Rated 4 stars

Excellent
---
Nigerians Attack Davido For Paying To Have His Positive Status Hidden After Oyo Gov, Seyi Makinde Tested Positive

Reviewed by:

Published on: Mar 31, 2020 | 14:36

Last modified: Mar 31, 2020 | 14:36
---