Manchester United signed Owen Hargreaves in 2007 with one clear goal in mind; to win the Champions League for the first time in almost a decade.
Just 12 months later, Sir Alex Ferguson was able to get his hands on Europe's most prestigious trophy for what would prove to be one final time. Hargreaves was vital in United's success that season, but little did he know it would be the penultimate time he'd ever complete a full game of football. Hargreaves' journey to the winners' podium in Moscow wasn't easy. In fact, from an early age, it was almost impossible to imagine he'd ever become a professional footballer, let alone win the Champions League with both Bayern Munich and Manchester United.
His upbringing was as English as it gets. Roast dinners on Sunday and cups of tea were as common for Hargreaves as they were for most families in Old Blighty, only his came 4,000 miles away in western Canada.
Like almost everyone else growing up in North America, Hargreaves' sporting role models didn't play soccer. He was unsurprisingly drawn to Michael Jordan – the inspiration behind Hargreaves' decision to take the number 23 shirt at Bayern Munich – and he loved ice hockey.
His passions were elsewhere, but Hargreaves inevitably caught football fever and he started to impress from an early age with Calgary Foothills FC, where he was eventually scouted by Bayern Munich.
Hargreaves hadn't even heard of Bayern Munich when he went on trial at the club – not that Germany's most successful team ever knew – but he impressed so much, the Canada-born midfielder was signed to a youth contract in Bavaria.
It was quite a journey from arriving at Munich airport, where he was picked up by Mats Hummels' dad, to making his debut in the Bundesliga,. But Hargreaves' biggest breakthrough came just after his 20th birthday in a Champions League semi final. He was still on a youth team contract and had just eight minutes of Champions League experience under his belt when Ottmar Hitzfeld picked him to start in the semi final second leg against Real Madrid, but he ran Los Blancos into the ground and from there everything changed.
Hargreaves had been looking across the tunnel at Luís Figo – the most expensive player on the planet at the time – and one of his footballing idols Iván Helguera before the game, but after, the fresh-faced Canadian was told his performances had earned him a professional contract.
Just a few months later, Hargreaves would have a vital decision to make. It was a decision which he'd be reminded of for years to come as well, as the Canada-born, German speaking midfielder wanted to play international football for England.
Football from abroad wasn't as easily accessible at the start of the millennium as it is these days, but that's little excuse for the stick Hargreaves would receive whenever he played for the Three Lions. It wasn't just from fans either. The national press stoked the fires for quite some time as well.
Hargreaves had just won the league and cup double with Bayern Munich – he was even voted as the man of the match in the DFB-Pokal final – but when his name was read out as part of England's World Cup squad in 2006, there were audible boos coming from the press room.
The press were on his back before the tournament in Germany, but they weren't after. Hargreaves was one of the few England players who walked away from the World Cup as a success, which paid off when he was voted as the country's footballer of the year.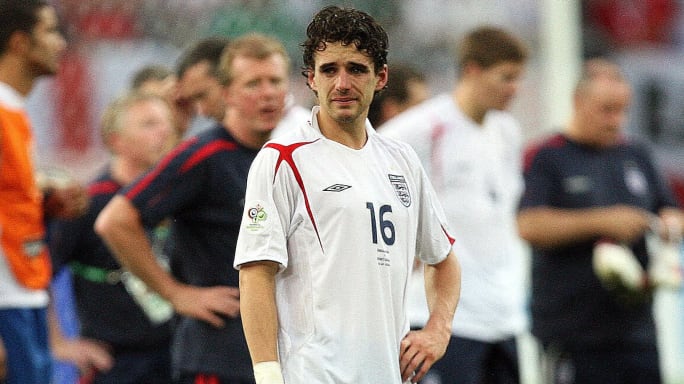 Hargreaves wouldn't join Manchester United for another year, but Sir Alex wanted his man straight away. The England international even visited United's manager to hold talks over a move after the World Cup, but Bayern Munich had already waved goodbye to Michael Ballack and wouldn't let another midfielder leave.
He isn't always remembered as a modern Manchester United great because of how things ended, but Hargreaves couldn't have wished for a better start to his career at Old Trafford.
They'd been able to wrap up the Premier League title in that season, where Hargreaves made 34 appearances in total across all competitions, but it was United's Champions League final against Chelsea which would prove to be one of the most significant.
Hargreaves had already been playing through a slight injury throughout most of the season, but that didn't stop him from putting one hell of shift in Moscow.
He played the full 120 minutes, scored in the penalty shootout, and still had enough left in the tank to celebrate when Edwin van der Sar settled things with a strong left hand to keep out Nicolas Anelka's spot kick.
Hargreaves would stay at Manchester United for another three years and the club continued to be successful, but they had to do it without the former Bayern Munich midfielder. From 34 appearances in the 2007/08 season, he only made five more over the next 36 months at Old Trafford. In fact, having lifted the Champions League with Manchester United at the age of 27, Hargreaves would actually only go on to make nine more appearances throughout the rest of his career.
The former England international played in a couple of games at the start of the 2008/09 season, but it wouldn't be until May 2010 that he'd step back onto a pitch and even then, his cameo appearances only prompted injuries to reoccur.
Hargreaves was in his prime when he lifted the Champions League with Manchester United – his second European trophy, after winning it in 2001 with Bayern Munich – but his career was ultimately cut brutally short.
The boots were hung up by the age of 31, leaving football fans asking just what might have been had Hargreaves been able to dodge quite so many problems with his knees.
The two Champions League finals which Manchester United lost during that time certainly could have swung in a different direction. Pep Guardiola's Barcelona came out on top both in Rome and London, but a hard-working midfielder like Hargreaves certainly would have helped the disrupt Barça's rhythm at the very least – even if the results had ultimately stayed the same.
Hargreaves almost certainly would have played a bigger role in the Premier League title race too. Although United retained the title in 2009 and won it again in 2011, they missed out to Chelsea by just one point in between those seasons. His time as a footballer unceremoniously ended across the road at Manchester City because, as expected, injuries continued to plague his career.
Hargreaves impressively scored on his debut for the club, but he only ever played one game in the Premier League during a season which is only ever remembered for Sergio Agüero's late title-clincher against Queens Park Rangers.
Hargreaves rose to prominence as one of the emerging talent's in England's underachieving golden generation, and while he walked away from the game with a trophy cabinet most players can only dream about, there will always be a burning desire to understand just what else he could of achieved had his future not been snatched away by injury.