David Beckham is a global icon. Everyone knows him; from football fans to fashionistas to people who don't watch sport. He is arguably one of the best English players to have stepped on a football field. A global ambassador for the sport, Beckham is rightly regarded as a British cultural icon.
After over 700 matches, 19 trophies in four countries, three World Cup campaigns, and 129 goals, David Beckham finally hung up his boots in 2013. The former Manchester United and Real Madrid star will go down in history as one of the most successful and popular English players of all time.
Known for his array of passing, crossing ability, and curling free-kicks as a right winger, Beckham has been hailed as one of the greatest midfielders of all time.
On June 30, 1998, Beckham was sent off against Argentina at the World Cup in France, resulting in England's exit from the tournament and a huge backlash back home. He was public enemy number one on his return to England, but it's all character building stuff as 'Golden Balls' showed the world in the years that followed.
He was runner-up in the Ballon d'Or, twice runner-up for FIFA World Player of the Year, and in 2004 was named by Pelé in the FIFA 100 list of the world's greatest living players. He was inducted into the English Football Hall of Fame in 2008.
Without further ado, here are the 5 best moments of David Beckham's legendary career.
5. The 1998 World Cup Red Card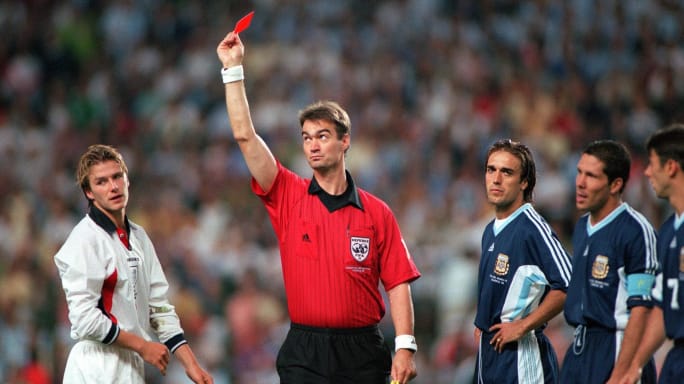 This was probably the most infamous moment of David Beckham's career. He played all of England's qualification matches leading up to the 1998 World Cup, but was dropped for the first two matches of the group stage. He started in the round of 16 match against Argentina, but it wasn't to last.
Shortly after Javier Zanetti scored an equalising goal, Beckham was fouled by Diego Simeone. As he laid face first on the field, Beckham kicked Simeone in retaliation. Even though Simeone made a meal of it, the kick was a petulant act that earned Beckham a red card.
When England were subsequently eliminated in a penalty shootout, Beckham was undoubtedly blamed for that. He was booed at every stadium he visited with United the following season, and there were even reports of death threats and Beckham effigies being hung in the streets.
4. The Free-Kick Against Greece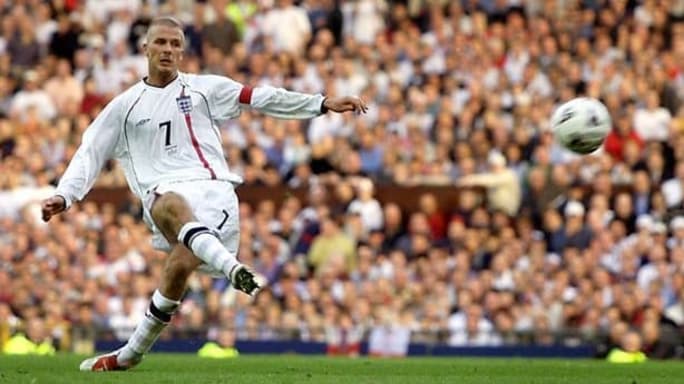 Beckham's last-minute free-kick against Greece that secured qualification for the 2002 World Cup will go down in history as one of the most memorable England goals of all time.
Beckham was England captain for most of the 2002 World Cup qualification campaign—which included a famous 5-1 victory over Germany in Munich—that culminated in a match against Greece at Old Trafford.
England only needed a point to qualify but trailed 2-1 heading into injury time. In the dying seconds, however, Beckham struck one of his trademark free-kicks straight into the top-left corner of the net. It was one of the most joyful moments the '90s generation of England fans had experienced, and it marked his transition from World Cup villain to hero.
3. The 50-Yard Lob v Wimbledon
Alan Hensen had infamously said "You can't win anything with kids", but Sir Alex Ferguson's intellect was his faith in United's youth players in the 1990s. Beckham was part of 'Fergie's Fledglings' that won the Premier League title in 1995-96.
Spotting the Wimbledon goalkeeper off his line late in the second half, Beckham attempted an audacious 50-yard lob which went straight into the back of the net. For Dons fans, it was the miserable icing on a 3-0 loss, but for Beckham, it was the start of a career destined for greatness.
The moment was even voted 18th in a 2002 poll of the 100 Greatest Sporting Moments, and that season Beckham won a regular place in a governing United side.
2. Becoming a Galactico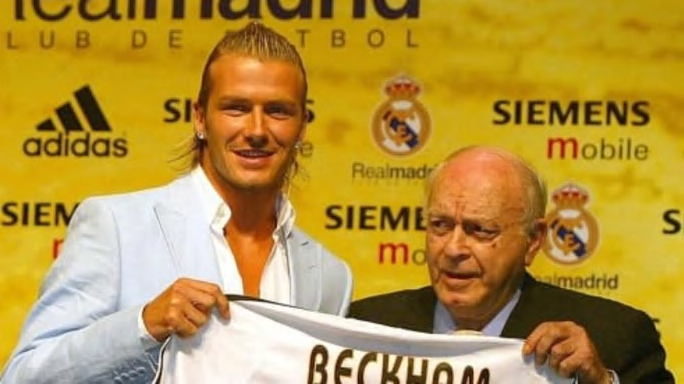 Arsenal defeated Manchester United 2-0 in the FA Cup in 2003 as Beckham limped off the pitch with an injury. Sir Alex Ferguson was so furious with his team's performance that he kicked a football boot that was lying in the dressing room and it hit David right above his eye. Beckham left for Real Madrid at the end of the season.
He was the third Englishman to play for Los Blancos (behind Laurie Cunningham and Steve McManaman) and became part of a star-studded squad that included Ronaldo, Zinedine Zidane, Luis Figo, Roberto Carlos, Raul and plenty more.
Although the four seasons he spent with Madrid were relatively unsuccessful for the Spanish giants, he scored 20 goals in 155 appearances and lifted the LaLiga trophy in his final season.
1. Winning the Treble in 1998-1999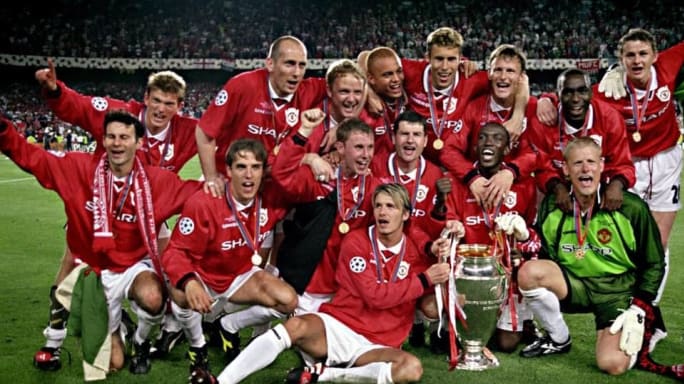 In the hysteria that followed the 1998 World Cup, there were rumours that Beckham might move away from England. But a lot of people, including himself, would be glad he stayed. And although Beckham didn't score the goals that ultimately won each competition, 'Golden Balls' was one of United's best players as they won the Premier League, Champions League, and FA Cup.
Nine goals in 55 appearances that season, including a strike against Tottenham on the final day of the Premier League season, helped the Red Devils to become the first English club to win the treble. Four days after the FA Cup win, one of the most memorable evenings in modern football history occurred at the Nou Camp.
United had twice failed to beat Bayern Munich in the Champions League group stages, and when they were 1-0 down at the end of normal time, things looked bleak. But Beckham switched to a central role from the wings, and the rest is history.